Powerboat Canvas & Enclosures
---
Bimini's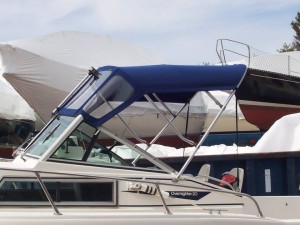 A bimini for your powerboat is the perfect protection against the elements; rain or sun. Be comfortable in your powerboat at anytime, anywhere. We proudly offer high quality Bimini's that are specifically designed for your boat using fabrics such as Stamoid and Sunbrella that are not only durable but also water resistant, flexible, mildew resistant and available in many colors!
Frames fabricated by our trademark patented H2ube or the option of stainless steel tubing.
---
Dodgers

Hallett Canvas & Sails, Inc. has 26 years experience manufacturing various designs of dodger's suitable for each individual customer and their powerboat. Hallett dodgers are carefully built ensuring structural integrity as well as years of performance. Dodgers will add the comfort, protection and style to your boat. Custom design your own dodger or see our dodger design page for some potential options that fit you and your powerboat.
---
Cushions
Exterior
Quality Vinyl, Mesh, EZ Dry Foam and Closed Cell Foam options, Sunbrella, Plastic YKK Zippers are all used to make the most durable outdoor cushions possible.

Interior
Luxury Foam including any thickness, Quality fabrics and construction will make your boat worth living on for years to come.
---
Winter Covers

We can build covers for any custom projects. We will work around special rigging or unique designs to bring it all together for the perfectly finished look. Many times the upfront cost of a winter cover is substantially high, however if you keep your boat for more than three to five years the cost becomes much lower than shrink wrapping. Also the quality and functionality of the cover is much greater than the standard blue and green polyethylene tarps. A quality winter cover is important in preserving your upholstery from rain, snow, and harmful UV rays.
---
Enclosures

Our custom fit power boat enclosures allow boaters to use the outdoor space in all weather and get full use of boat. This in turn can also lengthen the boating season all together allowing you to launch earlier in the spring and to stay warmer cruising in the fall evenings. Enclosures are designed to provide maximum visibility built with Strata Glass, Makrolon Polycarbonate or Crystal Clear glass while using Sunbrella or Stamoid for the panels. There are many options for materials, colors, and designs.
---
Hard Tops

Hallett will provide your hard top powerboat with a finishing touch by adding a full enclosure for your fly bridge or a phone booth enclosure for your center console, using only the highest quality materials to get the ultimate protection from all weather conditions imaginable.
---
Custom

Hallett can design and fabricate any in-house custom upholstery or canvas work that you may need. Some of these projects include, motor covers, console covers, mooring covers, fender covers, and much more. You tell us what you would like and we will go the extra mile to meet your needs.