H2ube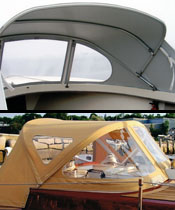 Hallett Canvas & Sails is proud to announce its 5th year of success with H2ube. H2ube is a flourishing innovative new tubing system that creates a more versatile, aesthetically pleasing, smooth and seamless marine product! The H2ube introduces a new way of building Dodgers, Biminis, Awnings or any canvas application where a strong, smooth, versatile finish is desired. By incorporating 2 channels within a 1" extruded aluminum tube we are now able to break away from the old fashioned use of standard tubing to create a new look where only the limits of your creativity will be the boundary.
This new 2 channel tube has a 1/8" wall thickness for an incredibly strong frame and has a silver anodized finish that is both durable and elegant. With our patent pending unique design our H2ube can be bent around a 4" radius and still be able to feed your canvas through the channels. As a result we have eliminated the need for pockets and zippers to attach the canvas to the frame. Also the material is tensioned along the length of the tubing eliminating wrinkles and creating the smoothest looking canvas on land or sea.
The difference:
Two unique internal channels can bend down to a 4" radius with no channel distortion
1" anodized aluminum tube
Smooth elegant finish
Extra thick wall thickness
High strength & lightweight
Tensions material along length of tube for wrinkle free fabric & smooth clear windows
Canvas becomes a part of the frame reducing material usage
Eliminates the need for zipper or Velcro pouches and eliminates some exposed stitching

Each length has a feeder machined into the tubing allowing the use of traditional hardware (eye-ends, jaw slides, rail hinges)
Easy to store and repair
KEDAR WELT specifically for H2ube is now available. Simply sew your material to the kedar welt and install… it's that easy!!
Specifications
Create a more versatile, aesthetically pleasing, smooth and seamless marine product with H2tube.
Using H2ube
Learn how our H2ube product works and how you can use it for any of your marine products.