Rigging
---
Genoa Furling Systems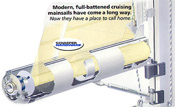 There are many brands of roller furling units on the market today that fit just about any needs or budget. We sell Harken, Hood, Schaefer, ProFurl and Cruising Design Units. These units are great for short-handed sailing as well as being able to adjust sail area to any size you want from a 155% to an 80% or smaller and any combination in between. Existing headsails may be converted over to be used on roller furling systems! Split drum units are available for quick change from furling headstays to double grooved headstays for those of you who want the best of both the cruising and racing configurations. Also there is a handicap advantage for racers to switch to roller furling, ask us about these advantages.
---
Continuous Line Furling System

Harken, ProFurl, and Karver are great systems for small boats or for handling screechers, code zero's, asymmetrical spinnakers on the larger boats. This system makes deployment and dousing easy. The units are light and compact and consist of two components: A low profile line drum and one head swivel. Depending on the sail you are using, you would need to install a torque rope along the luff of the sail.
---
Spinnaker Gear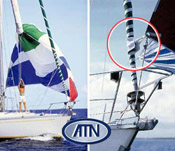 ATN Sleeve - With an ATN Sleeve sailors can now raise and drop their spinnaker or asymmetrical spinnaker with total control. No more repacking or wrestling the spinnaker onto the deck.
Tacker - The ATN Tacker is designed for asymmetrical spinnakers. It helps control the tack of the spinnaker by fastening it over the furled headsail and controlling the walking or swiveling around the bow pulpit without a pole.
---
Mainsail Handling Systems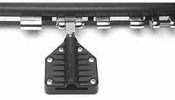 Dutchman Flaking System - This system flakes the main on top of the boom automatically controlling the sail so it arranges on the boom neatly rather than falling onto the deck and blowing in your vision. The Dutchman sail flaking system uses vertical control lines woven through discs fastened to the sail enabling the collection of the sail on the boom.
Lazy Jack System - The lazy jack system is simple, cheap and efficient. Having two lines on each side of the boom connected from high up on the mast down to the boom gives control to the main cradling it directly on to the top of the boom. The system can be designed to move forward for easy hoisting as well.
Strong Tides Systems - This is a luff slide system which makes raising and lowering the main much easier on a track system that slides up the mast with low friction slides, no jamming here! When the system is installed, the mainsail will raise with ease and drop the instant the halyard is released.